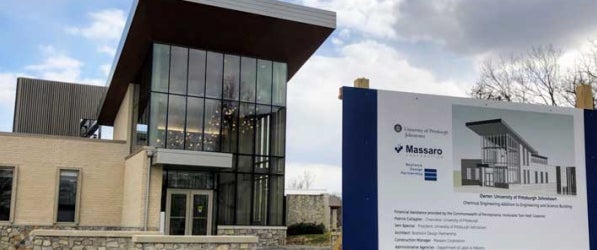 Pitt-Johnstown officially opens its new Chemical Engineering Building on March 21, 2019. A 4 p.m. ribbon-cutting ceremony will mark the occasion.
Construction on the $5 million project began in February 2018. The new building connects to the east side of the John P. Murtha Engineering and Science Building. The two-story, 7,000-square-foot Chemical Engineering Building houses laboratories, classrooms, faculty offices, and student study areas. Bostwick Design Partnership, Massaro Corporation construction, and H.F. Lenz engineering worked on the project.
"We will have labs where students will conduct experiments related to chemical separation, thermodynamics, heat and mass transfer, process control, and reaction engineering," said assistant professor Ramesh Singh, PhD. "In addition, we have a simulation lab where students will learn real-world, hands-on skills by operating and troubleshooting chemical processes in virtual environment."
The building is home to an already thriving major. Junior student Gabriel Berghe earned second place in the Petrochemicals, Fuel and Energy category at the National Meeting for the American Institute of Chemical Engineers (AIChE).
Berghe credited the University's educational standards, up-close instruction, and numerous opportunities as keys to his success.
"I live in Pittsburgh, however I chose Pitt-Johnstown because I could receive the same quality education with smaller class sizes, (which are) very important for me because I believe there is better communication between professors and students," said Berghe, a Brashear High School graduate.
Pitt-Johnstown President Jem Spectar noted that Pitt-Johnstown's engineering program Is building partnerships with companies as the University's reputation continues to grow.
"When we say 'Engineer Your Future,' we're not just talking about this institution and our students – but the entire region," said Dr. Spectar. "Offering the highly sought-after engineering degree is essential to meet emerging workforce needs of the Johnstown community and our region, raise the institutional profile and strengthen student recruitment, and advance the campus mission of preparing students for success in the Real World."
The Chemical Engineering Building opening marks another milestone in the program's progress.
The renovated and renamed John P. Murtha Engineering and Science Building was officially dedicated in a 2017 ceremony;
Overall engineering enrollment leaped by 24 percent in 2017;
Chemical Engineering degree programs were added in 2016;
A Redevelopment Assistance Capital Program grant awarded by the Commonwealth of Pennsylvania in September 2016 helped to support the projects in part; and.
Pitt-Johnstown began its official transition to engineering from engineering technology programs in 2015.
The University of Pittsburgh at Johnstown offers Bachelor of Science degrees in engineering for the following disciplines:
Pitt's Swanson School of Engineering academic excellence is part of the Pitt-Johnstown engineering culture.
Pitt-Johnstown engineers represent their school and education well during national competitions. During February 2019: 
Justin Towsey was awarded the American Bridge Leadership Award at the ASCE Pittsburgh Section E-Week Awards Banquet;
Alexa Janikowski received the ASCE Achievement Award; and
the team of Katherine Bolden, Hayley Caretti, Jedidiah Elam, Yoichiro Furukawa, Isabelle Macioce and Kevin Stalter place first in the Constuctors Association of Western Pennsylvania Student Estimating Competition. Pitt-Johnstown's second team finished in fifth place among competition that included Pitt, Penn State, and Carnegie Mellon.
Also, Pitt-Johnstown's Concrete Canoe team placed ninth in the nation at the 2018 American Society of Civil Engineers (ASCE) National Concrete Canoe Competition (NCCC), held June 23-25, at San Diego State University in San Diego, CA.
---
The University of Pittsburgh at Johnstown was founded in 1927 and is the first and largest regional campus of the University of Pittsburgh. Pitt-Johnstown is recognized by the Princeton Review as a "Best in the Northeast" college, by G.I. Jobs as a "Military Friendly School," and by Pennsylvania Business Central as a "Top 100 Organization." The distinctive combination of Pitt-Johnstown's people, programs, and place results in exceptional performance in preparing students for career and professional success. Pitt-Johnstown is the regional leader, educating for success in the Real World.