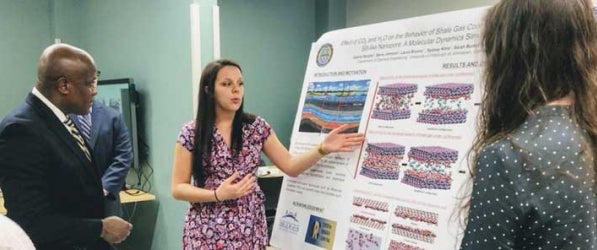 The University of Pittsburgh at Johnstown cut the ribbon on the university's $5 million Chemical Engineering Building on March 21, 2019, marking another major step forward for a chemical engineering program described by university President Jem Spectar as "a key part of our long-term strategic vision."
The two-story, 7,000-square-foot building has been under construction since last February, connects to the east side of the John P. Murtha Engineering and Science Building and houses laboratories, classrooms, faculty offices and study areas.
"This is another day of celebration," Spectar said Thursday, describing the new building as "a place where a strong community is made possible when you build a foundation for talent that is competitive, not just here, but nationally and globally."
Michael Marr, business integration lead for Shell Appalachia, said that the construction of the new Chemical Engineering Building was part of the process of creating a "new talent pipeline that companies like Shell will access in the future."
He pointed to the multi-billion-dollar chemical plant currently being built by Shell in Beaver County, northwest of Pittsburgh, as one of that pipeline's endpoints. The so-called "ethylene cracker plant" is expected to produce 1.6 million tons of polyethylene, a common plastic, per year once it goes online in the early 2020s, according to Shell.
"We recognize that in order to design, build and operate a chemical plant in the 21st century, you can't build without engineers," Marr said. "They are critical to our business and to many other businesses. … We appreciate the university building this building here because, without the buildings to teach the engineers, you don't have the engineers, of course, and without engineers, you can't run businesses like Shell does here in Pennsylvania and around the world."
Ramesh Singh, an assistant professor of chemical engineering at Pitt-Johnstown, said the new building is home to "labs where students will conduct experiments related to chemical separation, thermodynamics, heat and mass transfer, process control and reaction engineering."
"In addition," Singh said, "we have a simulation lab where students will learn real-world, hands-on skills by operation and troubleshooting chemical processes in virtual environments."
Pitt-Johnstown began offering its chemical engineering degree program in 2016, shortly after it began phasing out its engineering technology programs and introducing engineering programs in 2015. The school now also offers bachelor's degrees in civil, computer, electrical, and mechanical engineering.
Cambria County President Commissioner Thomas C. Chernisky said Thursday that Pitt-Johnstown's chemical engineering department "will graduate students who can be competitive in the 21st-century marketplace" and will "produce talented and skilled chemical engineers who can work here in Cambria County, in our region and across the Commonwealth."
"Supporting the University of Pittsburgh at Johnstown's chemical engineering department is one of the most important economic development projects in our region," he said.
Other speakers during Thursday's ceremony included former state Rep. Bryan Barbin and former state Sen. John Wozniak, both of whom helped move the project forward during their tenures, as well as state Sen. Wayne Langerholc, R-Richland Township, and Dr. Jerry Samples, division chair for Pitt-Johnstown's engineering and computer science division.
Bostwick Design Partnership was the architect for the Chemical Engineering Building, and Massaro Corp., of Pittsburgh, was the construction manager. The H.F. Lenz Co., of Johnstown, also worked on the project, according to Pitt-Johnstown officials.
---
The University of Pittsburgh at Johnstown was founded in 1927 and is the first and largest regional campus of the University of Pittsburgh. Pitt-Johnstown is recognized by the Princeton Review as a "Best in the Northeast" college, by G.I. Jobs as a "Military Friendly School," and by Pennsylvania Business Central as a "Top 100 Organization." The distinctive combination of Pitt-Johnstown's people, programs, and place results in exceptional performance in preparing students for career and professional success. Pitt-Johnstown is the regional leader, educating for success in the Real World.