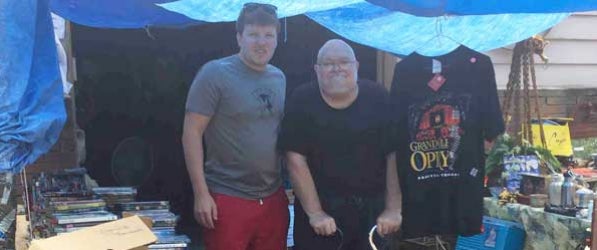 Pitt-Johnstown graduates established a funding-assistance web page to help a Cambria County man faced with the most difficult of situations - planning his own funeral. The results of the two alumni's exceptional effort and show of kindness has far exceeded its goal.
Willie Davis, a U.S. Navy veteran, is selling his life's collection of memorable items at weekend garage sales to cover his planned funeral and burial costs at a family plot 200 miles away in Culpeper, VA. "I never imagined I'd be doing something like this. But I felt desperate," Davis told The Tribune-Democrat.
Davis was diagnosed with a Stage 4 skin cancer (Squamous Cell Carcinoma) during the summer. He has resided in the borough of Brownstown, in Johnstown, for 11 years and is a native of Laurel, MD.
David Dunkleberger, a 2014 Pitt-Johnstown graduate, reportedly stopped by the garage sale and bought a few items and learned of Davis' situation on Aug 4. The meeting left an indelible memory. He contacted his friend Ed Sheets, a 2012 grad.
"When he told me why he was doing this – that he was trying to pay for his own funeral – I was floored," Dunkleberger told The Tribune-Democrat.
He and Sheets launched a GoFundMe campaign for Davis the next day. The initial goal was reportedly $3,000. The plea went viral through various media channels. As of September 28, the total had reached $54,000,including $30,000 in one day.
"He's done a lot, serving our country, so we wanted to return the favor to him so that his last days could be a little less hectic, a little more peaceful," Sheets told WJAC.
To donate, go to gofundme.com/helpwillied. 
The donations spiked since The Tribune-Democrat and WJAC-TV reported on Davis. Efforts are underway to set up a legacy fund in Davis's name to dedicate leftover donations to terminally ill veterans in need, said Dunkleberger.
Dunkleberger is the equipment manager for the Johnstown Tomahawks hockey team. Sheets is a human services caseworker for the Commonwealth of Pennsylvania.
"This incredibly selfless act by these Pitt-Johnstown alumni demonstrates the result of our formula for success:Our Distinctive People + Programs + Place = Exceptional Performance," said Tammy Barbin, Pitt-Johnstown's Executive Director of Development and Alumni Affairs.